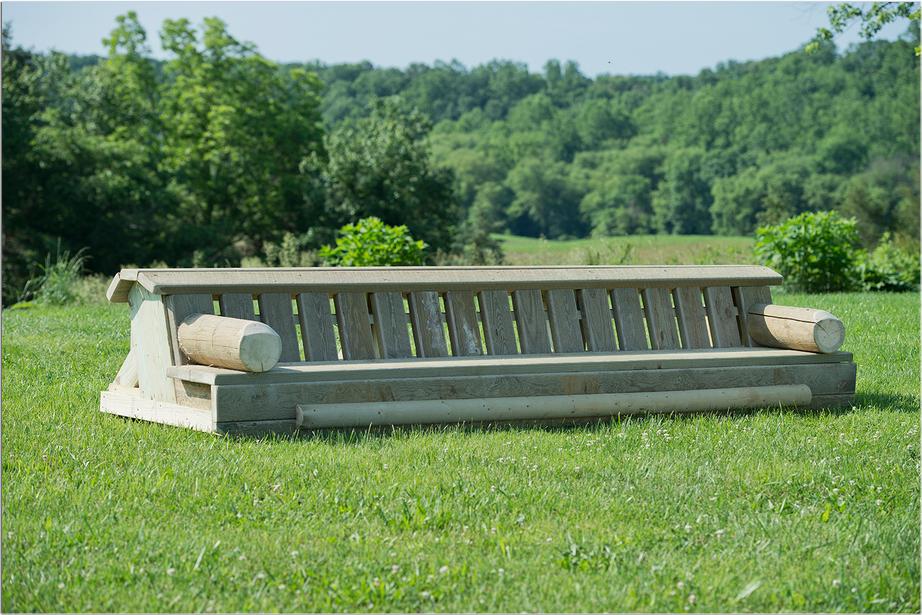 We have an exciting project in the works: a new schooling cross country course at Stable View Farm in Aiken. I'm building it, Boyd is designing it and it's on Stable View property – it'll be open for schooling on January first. It will have an emphasis on high performance, with a big water complex and a lot of the stuff people like at Boyd's place in Pennsylvania: the corners, the brush, all the things people really appreciate about schooling at Windurra.
It'll also have the advantage, also like Windurra, that Boyd moves things around often, which people really like if they go back often. That's really what portables are for really, to move around and do different things with them. Too many schooling courses get stuck in one spot, but he's good about moving things around and creating different, modern questions. The course will include lower level jumps as well, but its emphasis in its first build will be on high performance and then we will build out the lower levels.
The existing courses at Stable View are only open for schooling the day after events, for volunteers, so that is very limited; this is a new concept for them. The footing is excellent, with a sandy base and established Bermuda grass that is watered with irrigation guns every day. The course features water, a sunken road, numerous ditches and a couple trailer loads of portables: corners, triple brushes, tables, offset brushes, cabins to make combinations with. I wouldn't call it generic, but it will consist of pretty simple, straightforward jumps.
Stable View is providing the land but I'm funding the jumps, which will all be for sale – if you want to buy one and take it home, we'll just ship more down there after you throw it on a truck! We also offer delivery to your farm. It's sort of a new concept and one that I think will benefit everyone.
-Eric