From local horse trials to the very top levels of the sport, our competition jumps are constructed with the utmost care and attention to detail. In addition to both permanent and portable competition jumps, we also offer complexes and water jumps.

Horses and riders love our safe and inviting cross-country schooling jumps, built to the same exacting standards as our competition jumps but less expensive because of simpler construction. Both portable and permanent schooling jumps are available.

Our show jumps are every bit as beautiful and well designed as our cross-country jumps. We offer basic schooling show jumps and fancy, show-quality varieties.
Beautifully Built. On Time. Realistic Price.
Building the Course of Your Dreams
These values are at the core of our business philosophy, and we take tremendous satisfaction in providing our clients with affordable, high-quality jumps and courses that horses and riders enjoy and learn from. Whether you run a small barn or are an upper level competitor or organizer, we can provide the best jumps to suit your needs.
Course Management & Design
We have a wealth of expertise in building safe and appealing cross-country courses for every level, from the most basic beginner novice course to upper level complexes and combinations.
If we are building or designing a competition course, we don't walk away after the jumps are in place. We take a very hands-on approach to our work and can contribute a wide range of services before the first rider is even on course.
Working with Eric
"Eric and his team are as good as they come. I can't imagine running events without them. Their work ethic is unparalleled. If you can describe it, they can build it. They always have smiles on their faces no matter how many things go wrong."

— Lefreda Williams, President, Carolina Horse Park/Organizer, Southern Pines Horse Trials American Eventing Championships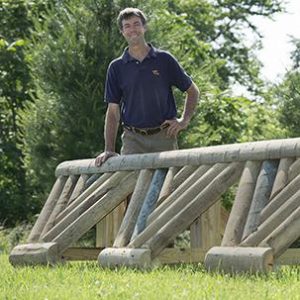 How to Order
Our jumps are custom built to suit your needs. Please call 434-286-3330 to discuss your specific requirements. We accept both checks and major credit cards.