The Foundation for Your Schooling Course
A few permanently installed jumps can be the basis of your schooling course, and then you can expand the possibilities with a variety of portables. If you need permanently installed schooling jumps (that won't have to be moved), we will build, deliver and install anything from coops to water complexes and everything in between. Where it is required, we can work in partnership with local grading contractors, or we have the skills and equipment to handle any earth moving ourselves.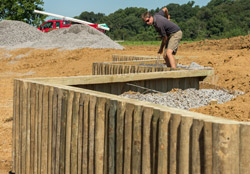 We understand the importance of matching the existing terrain and available space to the jumps that you need. Every schooling field will be different depending on the landscape: trees, rocks, hills etc. and it is important to build steps, water complexes and other permanent fences where they make sense. Horses see differently than we do, and if you're scratching your head and trying to make sense of why there's a ditch or water in a particular place, the horse will be even more confused.
It's also sensible and more cost effective to build things where they naturally make sense. Otherwise you're fighting the land and trying to force something into a place where it doesn't belong. Our years of experience help us to figure out the best layout and design for your property and to create a situation that best meets your schooling goals.
Permanent Schooling Jump Gallery
Click on photos to enlarge
How to Order
Our jumps are custom built to suit your needs. Please call 434-286-3330 to discuss your specific requirements. We accept both checks and major credit cards.