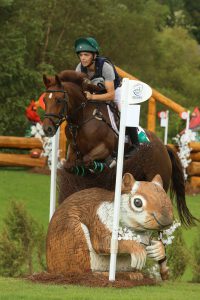 ETB Equine Construction, LLC (ETB), based in Scottsville, VA specializes in building attractive and safe cross-country obstacles and stadium jumps and providing the best in course design and management. Whether you need schooling jumps, portable cross-country jumps, or a complete Advanced level course, ETB has decades of experience in customizing products to suit our customers' needs. Let us help you and your horse achieve your maximum potential with our quality products.
About Eric
Education: Master Craftsman Eric T. Bull grew up riding and eventing in New York and Connecticut. There he developed a love for the sport and a unique understanding for the layout and safe construction of courses for both eventing and driving competitions. Eric studied business management at SUNY Brockport and worked at a construction company in the summers to pay for college. Eric's love for the outdoors and all things equine made jump and course building a perfect career path.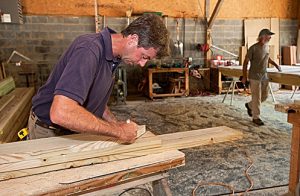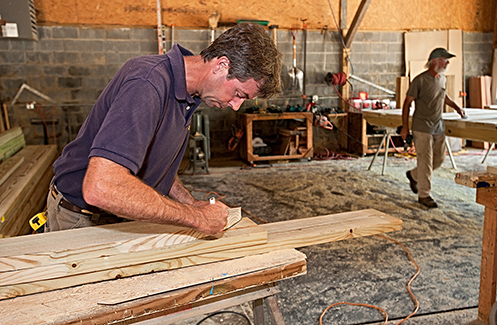 Artistry: Eric's artistic skills are evident in the unique, innovative style of his custom designed jumps and the whimsical carvings that make them stand out from the rest.
Craftsmanship: Eric is skilled at translating the language that horse people speak and turning their ideas into concrete, precise measurements and designs to achieve ideal construction. While every jump created by ETB has the same stamp of quality, our designs are unique and no two courses turn out exactly the same.
Management: Eric can also supervise the work on a course being built by a farm owner or with the help of local labor, and is skilled with earth moving equipment to create exactly what a particular jump or course requires. With years of experience and depth of knowledge, course building is second nature to Eric, and he and his team of helpers have the skill and workmanship to get the job done right.
Family Life: Eric and his wife Molly, a four-star event rider who is head trainer at Plain Dealing Farm, live in Scottsville, VA with their son Henry. "It's a great job because you have time for your child, and the horse world is very welcoming to children," he says.
Horsemanship: Between work and parenthood Eric finds less time to ride, but he still finds time to get on a horse when he can. "Riding and jumping always makes you keener and more aware, as a builder, of what's important in a course."
Some of our work
Click photos to enlarge.
How to Order
Our jumps are custom built to suit your needs. Please call 434-286-3330 to discuss your specific requirements. We accept both checks and major credit cards.