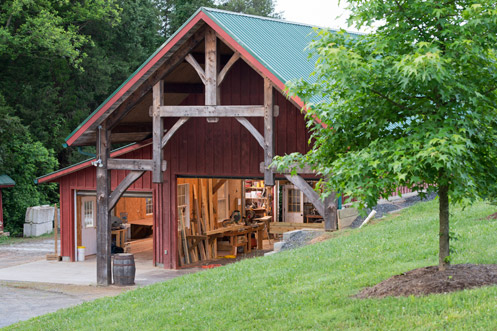 Our state of the art jump building workshop truly sets us apart from the competition and allows us to meet the needs of our clients quickly and efficiently. Our shop also provides the ideal environment for superior craftsmanship. Eric spent his first ten years as a course builder working on location out of a truck and another ten building out of a shop, and finds the work that takes place in a shop highly superior. The shop gives our employees a better lifestyle, as well — they get to go home every night rather than living life on the road, which allows everyone to focus on their work, and allows us the opportunity to hire the highest quality craftsmen.
Inventory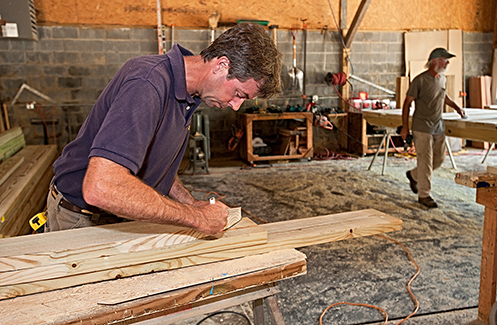 We stock a complete inventory of all the supplies needed to build what you need, saving time and resources so that we can focus on building quality fences in a timely manner. This part of Virginia has particularly high quality lumber available at affordable prices.
Portables
We also have a selection of ready-built portables stocked to deliver to your farm, when you need them. Portability — the ease with which you can move your portable fences around — is key. When we build jumps in our shop, we are forced to build fences that are easy to move, since we have to transport them to your farm — hence a finished product that is easier for YOU to move around as well.
Expertise
Our team of builders has all the skills to create the most basic to the most complex jumps. From the design table to the finished product, we can build exactly what you need to help you and your horse meet your training and competition goals. Fred alone has 30 years of building experience and is a trained engineer who built barns before becoming a jump builder.
Accuracy
The high quality tools in our shop allow us to work accurately, in a controlled environment. We make a template of every jump with build, so every time we build a jump we can improve on the detail and shape of the fence based on the input from every jump we've built previously. That way, if we do encounter a problem, we know how to avoid making that mistake again.
Equipment
All of our equipment is top of the line, and instead of constructing fences in a muddy field, the workshop ensures ideal working conditions so that we can maintain consistent, high quality standards in constructing our products. We have big, stationary tools and a consistent source of power so that there are no interruptions in our work. We have everything we need plus extra equipment to build jumps without making any compromises.
Machinery
Our trucks and earth moving equipment allow us to handle bigger and more complex projects, and we can deliver our jumps right to your farm and handle every aspect of installation.
Under Construction at Our Workshop
Click on a photo to enlarge.
How to Order
Our jumps are custom built to suit your needs. Please call 434-286-3330 to discuss your specific requirements. We accept both checks and major credit cards.