Appropriate Challenges for Every Level
Whether you want a simple complex for the lower levels or a series of banks, drops, water, bounces, etc. that require expert solutions, we can help.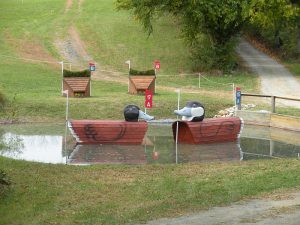 We have a wealth of experience in all aspects of construction. From laying the proper base to setting the jumps, we have all the requisite skill and equipment to build whatever you need. Below are some samples of our work.
Contact us to discuss how we can assist you with your jumps.
Complexes & Water Jumps Gallery
Click photos to enlarge
How to Order
Our jumps are custom built to suit your needs. Please call 434-286-3330 to discuss your specific requirements. We accept both checks and major credit cards.