Practical and Economical Options to Maximize Space and Flexibility
In a schooling course you often need the least number of pieces to reach your training goal. When the sport of eventing developed, most horse people lived on farms and there was more open space for schooling; today we don't have that luxury. Schooling courses are frequently constructed in smaller and smaller fields, so flexibility is essential.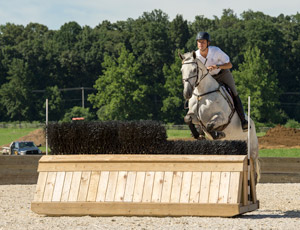 You may be just starting out and have a limited budget, or you may have an existing schooling course that you want to make more interesting. Either way, adding just a few versatile portables gives you the most bang for your buck. Our standardized portable cross-country schooling jumps are just as sturdy and durable as custom-built competition portables. On schooling courses, they serve a great purpose in acquainting horses and riders with the obstacles that they will meet in competition.
Portables can also be used on your competition course, in combination with permanent fences, as a more affordable alternative to custom jumps. Designed with flexibility in mind, portable cross-country jumps are easy to move around, as they can be dragged or picked up and carried, and they are easy to maintain. They can also be put in storage during harsh winter months so that they last longer.
Over the years we have built thousands of portable fences, and have streamlined the process to maximize quality and efficiency. They are priced very reasonably and in most cases are a scaled down version of the competition jumps we build. They are built and detailed in the company's shop where careful attention is paid to their structure, design and durability. Coops, tables, oxers, carved animals and more can be delivered to your farm ready to put to work.
"I can't say enough good things. Eric has designed and built for me in Ancramdale, NY and Aiken, SC. I was unable to be there either time for the actual construction, and I got just what I hoped for. Beautifully built, on time and at a VERY realistic price. My 10 year old water jump looks and works as well as the day it was completed."

—Woody Baxt, www.chimebellchase.com
Portable Schooling Jump Designs
Legend for levels:
BN = Beginner Novice, N = Novice, T = Training, P = Preliminary, I = Intermediate
How to Order
Our jumps are custom built to suit your needs. Please call 434-286-3330 to discuss your specific requirements. We accept both checks and major credit cards.