Because You and Your Horse Come First
Over the last few years there has been a renewed focus on and interest in improving the safety of cross-country courses while continuing to provide riders with a challenging competition experience. As a nationally-known cross-country builder and former competitor himself, Eric Bull of ETB Equine Construction, LLC has worked to implement a number of safety initiatives, including the use of frangible pins in many new jumps.
Ground Anchors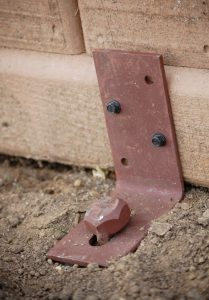 ETB Construction has become an industry leader in building safe and economical portable jumps. Importing an idea from the United Kingdom and improving upon the design, Eric has created a ground anchor/bracket combination which adds an additional level of safety and stability to the installation of portables on cross-country courses. To secure each portable jump, two pieces are required: the ground anchor is an 18" (or 24") stake with a bolt on top for driving it into the ground and for easy removal. There is a 3/8" hole drilled into the top of the spiraled steel for multiple applications.
PRICING
18" Ground Anchor: $16.75 each
24" Ground Anchor: $17.75 each
All shipping costs to be paid by the customer.
"L" Brackets
The "L" bracket is the piece of hardware that is fastened to the side of the portable jump. It has a slot in the bottom through which the stake is driven, forming a strong and stable connection with the ground.
PRICING
"L" Bracket—5" high, 3" wide: $6.00 each
"L" Bracket—8" high, 3" wide: $6.25 each
All shipping costs to be paid by the customer.
MimSafe New Eras Safety Clips
Mim Safety Clips have been designed to prevent rotational falls. They can be used for all permanent and portable fences. ETB Equine Construction, LLC is now distributing these products.
The clip has been designed to activate at 190 kg. The Mim Safety Clips can be used for all permanent and portable fences.
SafTfence — A Partner in Safety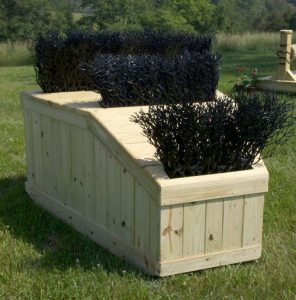 Riders and event organizers may be interested in innovative jump designs and materials from SafTfence. For more information or pricing please contact Eric, or learn more at saftfence.com.
How to Order
If you're not sure what you need, please contact us and we'll be happy to answer your questions. Call 434-286-3330 to discuss your specific requirements. We accept both checks and major credit cards.