This blog entry originally appeared on HorseCollaborative.com in June, 2015. While we are not currently looking for help here at ETB, it's worth reading over the job description if you've ever considered building horse jumps for a living.
We are looking for an enthusiastic and talented builder to join our team at ETB Equine Construction. We offer good pay, full benefits, and lots of travel and adventure. This is a great job if you're handy and if you love the outdoors. If you have a passion for three-day eventing, even better, because you're going to be spending a lot of time at competitions.
In addition to working in our state of the art workshop in Virginia, you're also going to be spending a lot of time on the road, far from friends and family, working long hours in every sort of weather. We are a close-knit team and want someone who brings a positive attitude to the workshop and the field, has a good work ethic and is open to new ideas.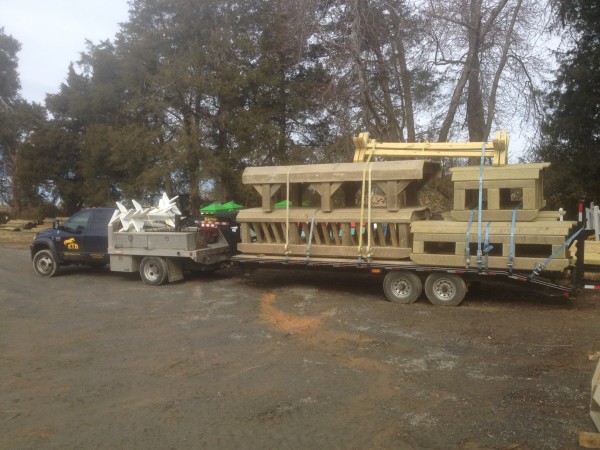 This job isn't for everyone; if you want to spend weekends at home with your family, propping your feet up and watching T.V., course building is not the lifestyle for you (that's right, it's not just a career, it's a lifestyle). But for the right person it's a dream job: you spend lots of time outdoors, put in an honest day's work, and create something solid that you can be proud of at the end of the day.
You can also experience working alongside some of the best course designers in the world: we build some of the top courses in the United States, including Fair Hill, Plantation Field, Southern Pines, as well as the first-class lower level courses at Fitch's Corner and various events around the Northeast, Midatlantic and Southeast regions. We also built the jumps for the 2015 $50,000 Wellington Eventing Invitational and are the official builders for the 2015 Pan American Games in Toronto.
Experience is preferred, but we are willing to train the right individual. This position is open immediately. For more information contact Eric at 860 930-3688 or eric@etbjump.com.