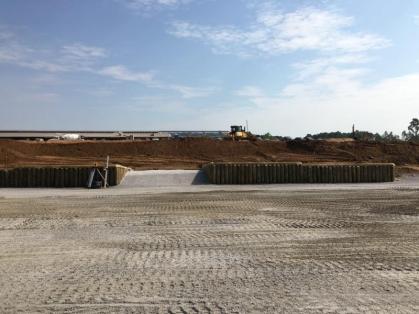 We've completed the water complex at the Tryon International Equestrian Center, a major step in the construction of the cross country course for this summer's Pony Club Championships and the American Eventing Championships in September. The impressive earth moving machinery available at TIEC made even this large scale water complex a pretty easy job!
There are around 160 portable jumps already constructed, or about 90 percent of the jumps we'll use for the AEC's. While the footing is still a work in progress, it's going to be unbelievable: a manufactured footing material, similar to what is used in the arenas and consisting of coated sand mixed with fibers is being laid over the entire galloping track, and mixed with grass seed so that the turf will have an all weather base. The course has a high-end irrigation system so with consistent watering and plenty of sunshine, the footing is going to be phenomenal.
Because the USPC Championships only go up to Preliminary level, the Intermediate and Advanced courses will not be used until the AEC's. The Pony Club will also have a fraction of the entries running at the AEC's so it'll be a little bit less pressure. We're looking forward to being on location for both events and enjoying some time in the beautiful Carolinas. We hope to see you there!
-Eric